Additional material to support your information poster, with a quiz to test your knowledge.
RESUSCITATION FOLLOWING AN ELECTRIC SHOCK
If a person receives an Electric Shock, they may go into Cardiac Arrest, which is when the casualty's heart stops beating normally. If this happens, blood stops flowing to the brain and other vital organs. Ventricular fibrillation, the most common cause of Cardiac Arrest, happens when the electrical activity of your heart becomes so chaotic that the heart stops pumping and quivers instead. Immediate defibrillation and effective CPR can quadruple someone's chances of survival. Using an AED is easier than many people think, and they can be used by any passer-by without training.
1. MAKE SURE THE AREA IS SAFE
Whenever you approach an incident involving Electric Shock, your first consideration should be to make sure that the environment is safe for you. For low voltage shocks, DO NOT touch the casualty until you are sure that the power source has been shut off. Do this by either turning the power off at the mains, or using an object of low conductivity (such as a wooden object), to push the faulty power source away from the casualty.
For high voltage shocks (such as overhead power cables), electricity can arc and jump across to the rescuer even if they are not in contact with the victim. For cases involving high voltage electric shocks, stay away from the victim and call the emergency services.
2. CHECK FOR A RESPONSE
Once you are sure it is safe to touch the casualty, check if the casualty is conscious or not by calling their name and shaking their shoulders gently. You should also shout loudly for somebody to help you. If someone can help, they should call the Emergency Services and locate an AED while you concentrate on checking the casualty's ABC's (Airway, Breathing, and Circulation (CPR).
3. CALL 999 OR 112
If someone has responded and has arrived to help, ask the helper to call and talk to the Emergency Services; otherwise, call them yourself. If possible, stay with the victim while making the call. It is a good idea to activate the speaker function on any phones, to aid communication with the ambulance service while you begin CPR.
4. EXAMINE AIRWAY
Check inside the casualty's mouth for any obvious obstructions. If the airway is clear, turn the victim onto their back if they are not already on it. With your fingertips under the point of the victim's chin, gently tilt their head back and lift the chin to open the airway.
5. CHECK BREATHING
Look, listen, and feel for normal breathing for no more than 10 seconds. In the first few minutes after cardiac arrest, a victim may barely be breathing, or may be taking infrequent, slow, and noisy gasps. Do not confuse this with normal breathing. If you have any doubt whether breathing is normal, act as if it is not and prepare to start CPR.
6. ADMINISTER CPR
GIVE 30 COMPRESSIONS
Kneel by the side of the victim and place the heel of one hand in the centre of the victim's chest; (this is the lower half of the victim's breastbone/sternum. Place the heel of your other hand on top of the first hand, then interlock the fingers of your hands and ensure that pressure is not applied over the victim's ribs. Keep your arms straight. Do not apply any pressure over the upper abdomen or the bottom end of the bony breastbone/sternum. Position your shoulders vertically above the victim's chest and press down on the sternum to a depth of 5–6 cm (approximately a third of the depth). After each compression, release all the pressure on the chest without losing contact between your hands and the sternum. Repeat 30 times at a rate of 100–120 compressions per minute.
GIVE 2 RESCUE BREATHS
After 30 compressions, open the airway again by using the head tilt and chin lift manoeuvre (as above), and give 2 rescue breaths. To give rescue breaths, pinch the soft part of the nose to close the nostrils by using the index finger and thumb of your hand that is on their forehead. Allow the mouth to open, but maintain the chin lift. Take a normal breath and place your lips around their mouth, making sure that you have a good seal. Blow steadily into the mouth while watching for the chest to rise, taking about 1 second as in normal breathing; this is an effective rescue breath.
Maintaining head tilt and chin lift, take your mouth away from the victim and watch for the chest to fall as air comes out, then take another normal breath and blow into the victim's mouth once more to achieve a total of two effective rescue breaths. Do not interrupt compressions by more than 10 seconds to deliver two breaths. Then return your hands without delay to the correct position on the sternum and give a further 30 chest compressions.
GIVE 30 MORE COMPRESSIONS
Continue with chest compressions and rescue breaths at a ratio of 30:2. If you are untrained or unable to do rescue breaths, give chest-compression-only CPR (i.e. continuous compressions at a rate of at least 100–120 per minute).
ELECTRICAL BURNS
When an electrical current passes through the human body, it heats the tissue and can cause thermal and electrical burns to skin and internal organs. If internal electrical burns are suspected, seek immediate medical attention. If there is no water available, skip step B (below) and go straight to step C (also below).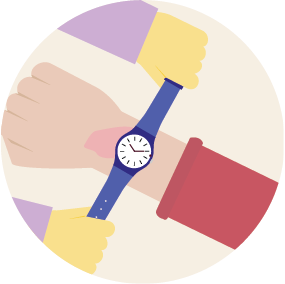 Remove any clothing or jewellery near the burnt area of skin. However, don't try to remove anything that's stuck to the burnt skin as this could cause more damage.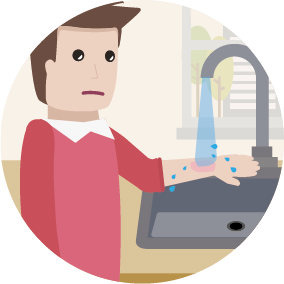 Cool the burn with cool running water for 20 minutes or more as soon as possible after the injury. Try to cool only the burnt area and not the skin around the burn as this could get quite cold.

DO NOT:
Apply ice or ointments.
Apply non-sterile or adhesive dressings.
Remove any damaged skin or clothes.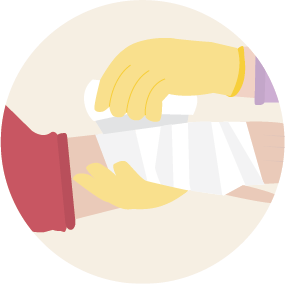 Dress the burn with a sterile burn (hydrogel) dressing if available. If not, apply kitchen cling film over the burn to help prevent infection.

LOSS OF MUSCLE CONTROL OR SEIZURES
People who receive an electric shock can get painful muscle spasms that can be strong enough to break bones or dislocate joints. This loss of muscle control often means the person cannot escape from the electrical source.
In the case of a casualty having a major seizure:
A. Try to catch the casualty as they fall, so they do not hurt themselves in the fall to the ground.
B. Protect the casualty from injury by removing harmful objects nearby them.
C. Cushion their head quickly, using clothing if necessary to stop them from harming themselves.
D. Loosen any clothing around their neck that may restrict breathing while experiencing a seizure.
E. Once the seizure has finished, check their Airway and Breathing (as described in section 1 point 5 above).
F. If they are breathing, gently place them in the recovery position. If they are NOT, begin CPR immediately.
G. Call 999 or 112 if the casualty is not breathing.
H. It is always sensible to go to hospital for a check-up following a seizure brought on by an Electric Shock, even if the casualty appears to have fully recovered and is breathing normally.
BROKEN BONES / FRACTURES
When a casualty receives an Electric Shock, sometimes the resulting violent muscle contraction can result in broken bones.
In most cases, the damage will be under the skin; this is called a closed fracture.
However, sometimes bits of the bone can puncture through the skin creating a wound; this is called an open fracture.
A. TO RECOGNISE A BROKEN BONE, LOOK FOR:
• Severe pain and tenderness.
• Bruising and swelling.
• Difficulty moving the area, or the area being an odd shape.
• A snap or grinding noise at the time of injury.
• Bleeding (if the bone has damaged the skin).
• Tingling or numbness.
B. OPEN FRACTURES
For open fractures, the prority is to stop the bleeding. Do this by applying pressure to the wound, if possible with a clean pad or dressing.
C. CALL 999 or 112 IF NEEDED
For major breaks and fractures, call 999 or 112. If the break is only minor, go to your local A&E.

D. SUPPORT THE AREA
Support the injured area and avoid moving it as much as possible.

E. KEEP CHECKING FOR SIGNS OF SHOCK OR LOSS OF CONSCIOUSNESS.
Shock is a life-threatening condition that occurs when the circulatory system fails to provide enough oxygenated blood to the body and, as a result, deprives the vital organs of oxygen. The type of shock described here is not the same as the emotional response of feeling shocked, which can also occur after an accident.
Signs of shock include:
• pale, cold, clammy skin
• sweating
• rapid, shallow breathing
• weakness and dizziness
• feeling sick and possibly vomiting
If you notice that someone has any of the above signs of shock, seek medical help immediately. Call 999 or 112, if this has not already been done. If their injuries allow, lie the person down and if possible, raise and support their legs. You could also use a coat or blanket to keep them warm.
F. APPLY AN ICE PACK TO THE AREA IF AVAILABLE
While travelling to A&E or waiting for an ambulance to arrive, apply an ice pack to the injured area, or use something similar such as a bag of frozen peas wrapped in a tea towel.
Electric Shock Quiz
A short quiz to test your knowledge of Electric Shock First Aid.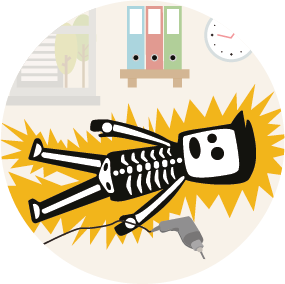 All information is for guidance only and correct at time of publication.