Additional material to support your information poster, with a quiz to test your knowledge.
RISK ASSESSMENT
Employers must carry out an in-depth fire safety risk assessment and ensure that it is kept up to date in line with any changes within the workplace.
To help prevent fire in the workplace, risk assessments should identify what could cause a fire to start, e.g. sources of ignition (heat or sparks), and substances that burn, and the people who may be at risk.
Based on the findings of the risk assessment, employers need to ensure that adequate and appropriate fire safety measures are in place to minimise the risk of injury or loss of life in the event of a fire. Consider whether you can avoid hazards altogether, or if this is not possible, how you can reduce the risks and manage them. Also, consider how you will protect people if there is a fire. Each workplace is different; there are no specific sets of rules that employers need to follow. The control measures that are implemented need to be specifically chosen to reduce risks in your workplace.
FIRE SAFETY EQUIPMENT AND PLANNING
FIRE ALARMS AND DETECTORS
Fire alarms should be installed to cover all areas of the workplace.
Ensure they are positioned to detect a fire quickly enough to raise the alarm in time for employees to escape.
Ensure that the fire alarm is loud enough to be heard clearly by all employees.
Ensure that the alarms have a backup system if they are electrically powered.
Ensure that instructions are available for employees on how to operate the fire alarm system.
ESCAPE ROUTES
Fire escape routes require in-depth consideration and should be planned so that all employees are directed to the shortest and most direct escape route.
Directions need to include a backup escape route in case the primary one becomes impassable.
Fire doors should be optimally placed to prevent any fires from spreading.
The number of fire exits should be suitable for the number of employees who work in the building. All exits and designated assembly points should be easily identifiable, kept free from any obstructions, and adequately illuminated.
All staff need to be fully aware of the best escape route from their work area, including any secondary route and the location of their designated assembly point.
The evacuation of any disabled employees or visitors needs to be factored into your fire escape plan. Special equipment such as Evacuation Chairs can save valuable time in the event of an emergency.
FIRE EXTINGUISHERS
Ensure that a sufficient number of extinguishers are placed throughout the workplace. Care should be taken to provide the correct type and capacity of fire extinguishers to match the hazards identified.
Fire extinguishers (including their type), and their locations need to be properly highlighted and signed.
Employees need to receive adequate training on the use of Fire Extinguishers, including the different types of extinguisher and what type of fire each should be used on.
Fire extinguishers should only be used on small, manageable fires.
MAINTENANCE
A designated employee should be appointed as Fire Marshall.
They should regularly check that all fire detection and firefighting equipment is working correctly.
Escape routes should be checked regularly to ensure they are clearly signed and are free from obstructions.
Training for all employees should be kept up-to-date, especially if any changes in operation occur.
AT SHUTDOWN
All windows and doors should be closed, including doors held open by automatic release units.
Switch off electrical equipment not in use, and where possible, unplug it.
Check that smokers' materials are not left smouldering.
Check that all naked flames are extinguished.
Ensure all flammable or combustible waste is removed to a safe place.
Check that all highly flammable materials are safely stored.
Ensure that the workplace is secured against unauthorised entry.
COMMON FIRE HAZARDS
The most common causes of fire in the workplace are:
Electric wires, higher electrical loads, loose connections, and old electrical equipment.
All cooking and heat-generating appliances.
Work processes and situations where the use of fire is essential, such as welding, cutting, and metal casting.
Improper stowage of tools, equipment, including items during and at the end of the day's work.
Smoking and personal lighters and matches.
USE FOR:
Fires involving organic materials, such as wood, cloth, paper, plastics, and coal.

DANGER:
Do not use on burning fat or oil, or on electrical appliances.

HOW TO USE:
Point the jet at the base of the flames, and keep it moving across the area of the fire. Ensure that all areas of the fire are extinguished.
USE FOR:
Use on fires involving organic solids, flammable liquids, gaseous fires, and electrical equipment.

DANGER:
Safe on live electrical equipment, although does not penetrate the spaces in equipment easily, meaning the fire may reignite. This type of extinguisher does not cool the fire very well and care should be taken to prevent it flaring up again. There is a danger of inhalation if powder extinguishers are used within buildings. Due to this, and the potential for powder to impair vision, powder extinguishers are no longer recommended for use within enclosed spaces.

HOW TO USE:
Point the jet horn at the base of the flames, and with a rapid sweeping motion, drive the fire towards the far edge until all the flames are out.
USE FOR:
Fires involving organic solids (wood, paper, textiles), and burning liquids, (such as paint and petrol), providing a 1 metre safety distance is adhered to.

DANGER:
Do not use on chip or fat pan fires.

HOW TO USE:
For fires involving solids, point the jet at the base of the flames and keep it moving across the area of the fire. Ensure that all areas of the fire are put out. For fires involving liquids, do not aim the jet straight into the liquid. Where the liquid on fire is in a container, point the jet at the inside edge of the container or on a nearby surface above the burning liquid. Allow the foam to build up and flow across the liquid.
USE FOR:
Live electrical equipment, although it allows reignition of hot plastics. Can also be used on flammable liquids.

DANGER:
This type of extinguisher does not cool the fire very well and you need to ensure that it does not reignite. Fumes from CO2 extinguishers can asphyxiate if used in confined spaces. Ventilate the area as soon as the fire has been controlled. Only use CO2 extinguishers with frost-free horns. The discharge of gas produces a sudden drop in temperature that there is a risk of freezing your hand to the horn.

HOW TO USE:
The discharge horn should be directed at the base of the flames and the jet kept moving across the area of the fire.
USE FOR:
Wet chemical fire extinguishers are ideal for Class F fires, involving cooking oils and fats, such as lard, olive oil, sunflower oil, maize oil, and butter.

DANGER:
Check manufacturer's instructions for suitability of use.

HOW TO USE:
Apply the wet chemical using the extended applicator in slow circular movements, which gives a gentle, yet highly effective application. Apply the fine spray onto the burning fat until the surface of the burning cooking oil changes into a soapy substance which prevents reignition. The gentle application helps to prevent burning oil splashing out of the container.
USE FOR:
Fire blankets are made of fire-resistant materials. They are particularly useful for smothering flammable liquid fires or for wrapping around a person whose clothing is on fire. Fire blankets should generally be disposed of after use.

BEST FOR:
Fires involving both solids and liquids. Particularly good for small clothing fires and for chip and fat pan fires, providing the blanket completely covers the fire.

DANGER:
If the blanket does not completely cover the fire, it will not be able to extinguish it.

HOW TO USE:
Place carefully over the fire. Keep your hands shielded from the fire. Take care not to waft the fire towards you.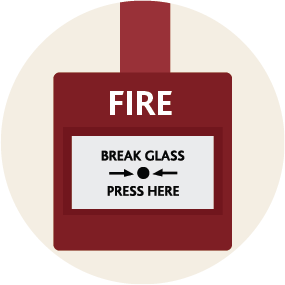 1. If you see a fire, set off the nearest fire alarm immediately.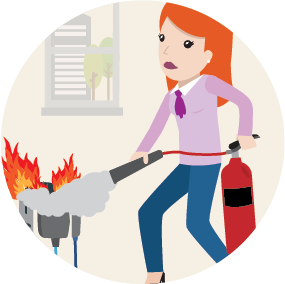 2. If the fire is small and manageable, use the correct type of extinguisher to fight the fire. Only do this if you are trained to use Fire Extinguishers, as using the incorrect type can make the situation much worse.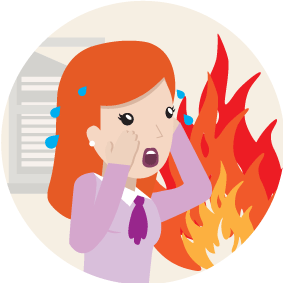 3. For large, unmanageable fires, you must evacuate the building immediately using your designated evacuation route. Do not stop to take any personal possessions.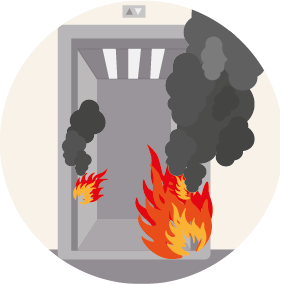 4. When evacuating the building, check for smoke and feel doors for heat before opening them to be sure there is no fire danger on the other side.
If there is smoke in the air, keep low to the ground (especially your head), to reduce smoke inhalation. Keep one hand on the wall to prevent disorientation and crawl to the nearest exit. Do not use lifts. Use the stairs.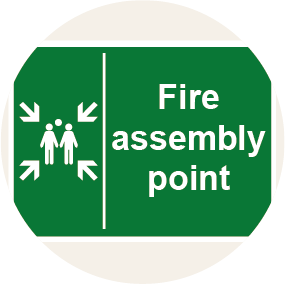 5. Once outside, go quickly to the designated assembly point.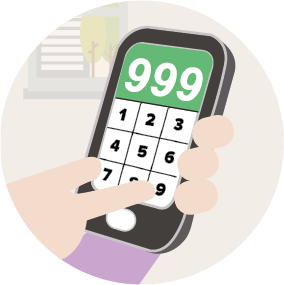 6. Call 999 or 112 and ask for the Fire Service.
Check if anyone may be trapped inside and report this to the fire services.

DO NOT ATTEMPT TO RE-ENTER THE BUILDING.

Fire Safety Quiz
A short quiz to test your knowledge of Fire Safety.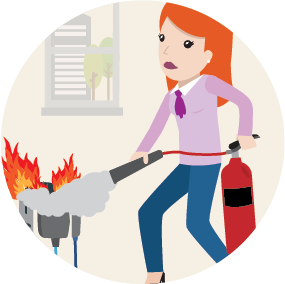 All information is for guidance only and correct at time of publication.