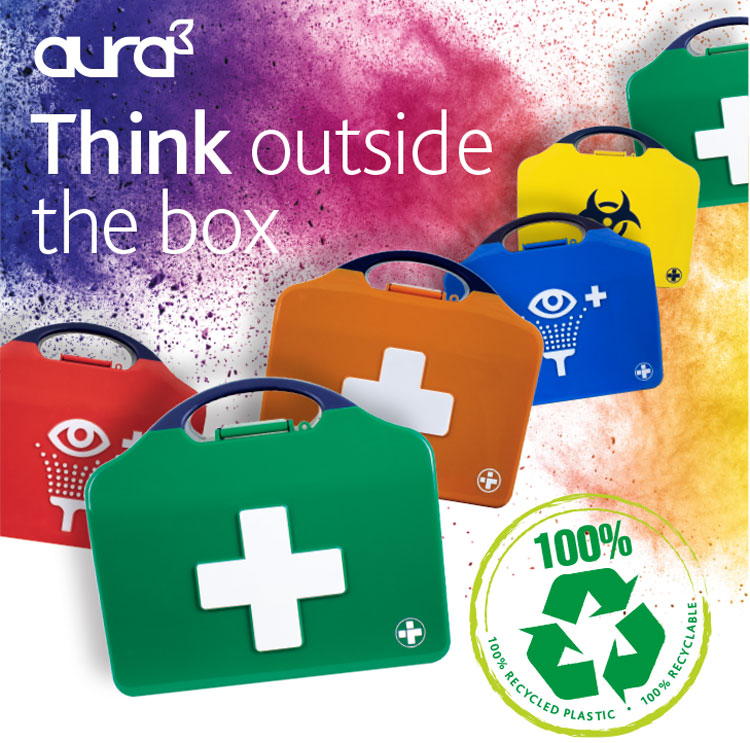 The new Aura3 box is the latest evolution of our flagship design that has been a firm favourite for years.
Our new AURA3 first aid range:
100% recycled materials, 100% recyclable.
Our new selection of greener choice products showcases how we, as a company, are leading the first aid industry towards a more sustainable future.
Together, we can begin to make a difference to our climate and environment by sourcing and stocking first aid products made from high percentages of recycled and recyclable materials.

LESS PLASTIC
Now made with 100% recycled and recyclable plastics. The new Aura3 design with save an equivalent of 3.43 million plastic bottles each year, based on weight and current stocks.
LASER ENGRAVING AND SCREEN PRINTING
All our boxes are laser engraved and screen printed, cutting down on label printing. Kit information is laser etched directly onto the box, so no is labelling required – helping to reduce our carbon footprint.
---
OUTSTANDING
Aura3 stands out from a distance, enabling quick identification in an emergency, especially in a busy workplace. Embossed and printed iconography help with easy identification across all languages.
---
MANUFACTURING AND DISTRIBUTION
The single clip closure enables quicker access with one hand in an emergency. Features an integral bracket for secure wall fixing and easy portability. The new design includes a tamper seal tucked neatly under the handle. Contents can be visually monitored by Health and Safety managers in an instant. Where possible, we are committed to shipping fewer empty boxes in our containers, by reducing excess plastics in our products.