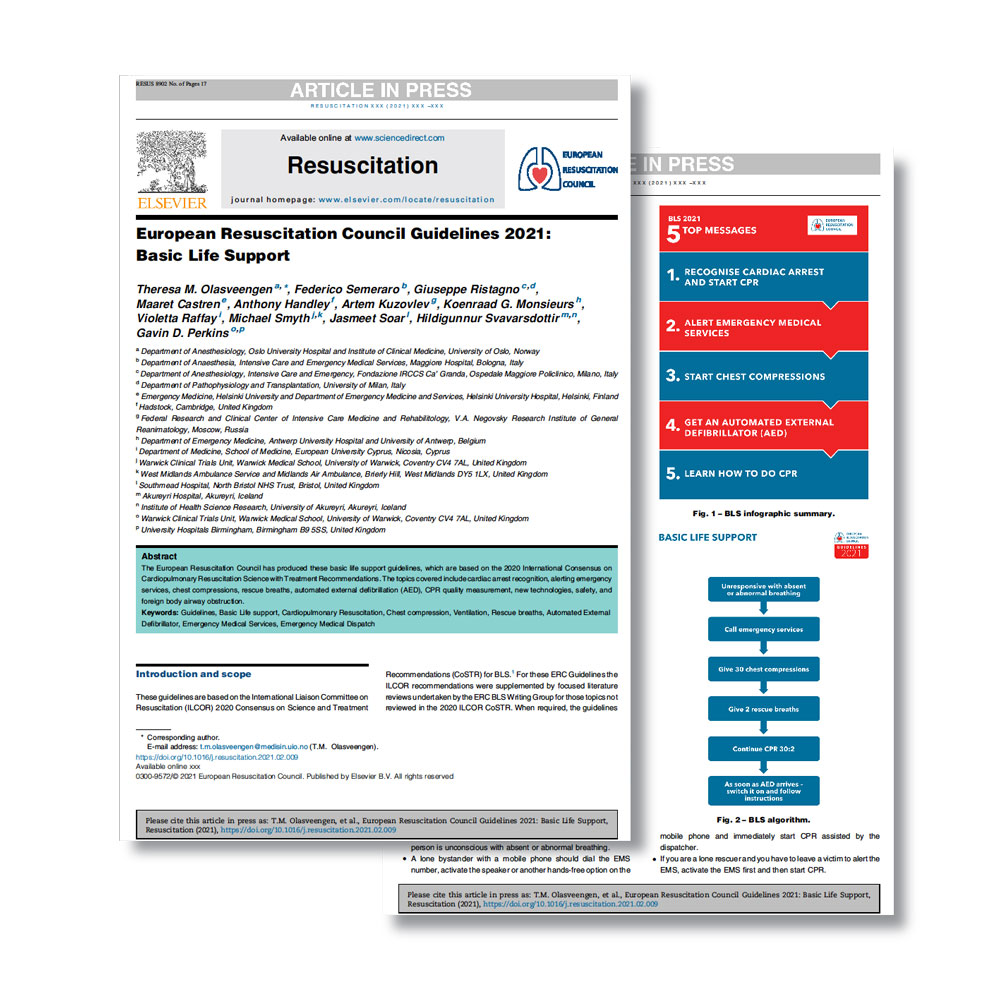 Summary
The European Resuscitation Council (ERC) recently published their full Resuscitation Guidelines (2021) covering the range of subjects within the resuscitation world.
This document outlines the highlights, particularly around the basic life support (BLS) guidelines, which particularly relate to defibrillation and CPR.
During 2020 the guidelines were put out for public consultation and they were published at the end of March 2021.
---
Changes to BLS Guidelines
In essence the 2021 BLS guidelines have remained the same as previously in 2015, in respect of defibrillation and CPR. However, there are a few minor changes/updates.
Recognition of cardiac arrest


Failure to recognise cardiac arrest remains a barrier to saving more lives. The current terminology is:
'Unresponsive and not breathing normally'
(Section 2. Adult basic life support and automated external defibrillation European Resuscitation Council Guidelines for Resuscitation 2015).

The amended wording in the 2021 guidelines is:
To start CPR in any person who is "unresponsive with absent or abnormal breathing"
(European Resuscitation Council Guidelines 2021 Basic Life Support).

COVID-19


The ERC has also produced guidance on cardiac arrest for patients with coronavirus disease 2019 (COVID-19), which is based on an ILCOR CoSTR and systematic review.
Understanding of the optimal treatment of patients with COVID-19 and the risk of virus transmission and infection of those providing CPR is poorly understood and evolving.

Agonal Breathing


Agonal breathing is an abnormal breathing pattern observed in about 50% of cardiac arrest victims. It indicates the presence of brain function and is associated with improved outcomes. Agonal breathing is commonly misinterpreted as a sign of life, presenting a challenge to lay people and emergency medical dispatchers. Agonal breathing remains the biggest barrier to recognition of OHCA. Early recognition of agonal breathing is a prerequisite for early CPR and defibrillation, and failure by dispatchers to recognise cardiac arrest during emergency calls is associated with decreased survival.