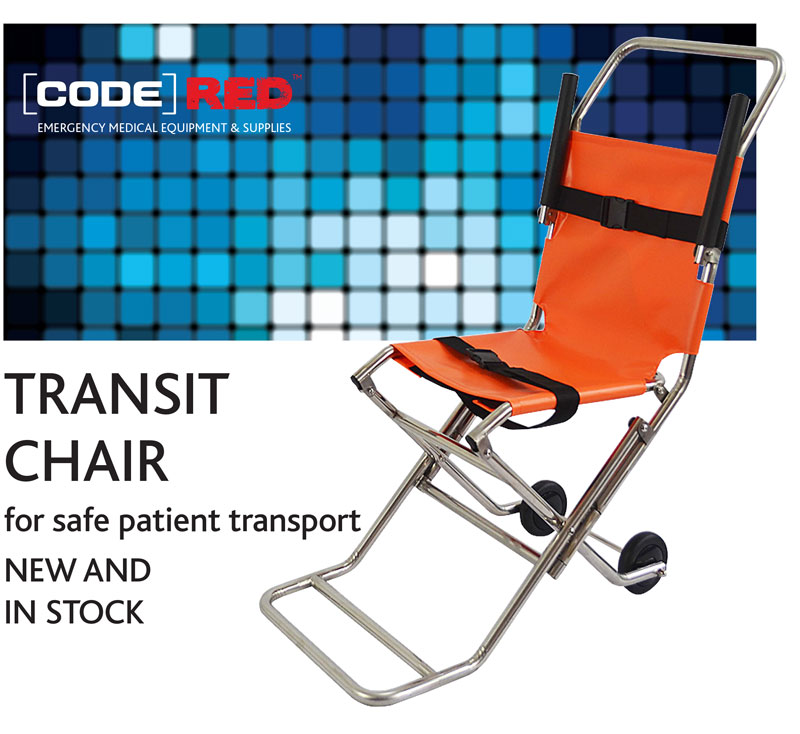 The Code Red™ Two Wheel Transit Chair is designed to aid the movement of a patient in a seated position and is ideal for assisting people with poor mobility. It is especially useful in situations where the use of trolleys or stretchers is constrained by confined exits, or cannot be operated during an emergency due to safety restrictions. Its strong yet lightweight construction and rapid set-up, make it a versatile choice wherever room for manoeuvre is limited.
A robust stainless-steel frame for maximum strength.
Wipe-clean PVC cover.
Small, lightweight, and easy to handle.
2 wheels and footrest.
Arm rests.
Safety belts for patient security.
Foldable for convenient carriage and storage.
Chair weight: 7kg.
Maximum load:  up to 195kg.
Open:  95cmH x 46cmW x 9cmD
Folded:  88cmH x 46cmW x 33cmD
REF 3046: Transit Chair with Cover and Bracket.